Mother Meera School in India
The School Volunteering Volunteer Form Principal needed Contact us Pictures Visiting More about Mother Meera
The School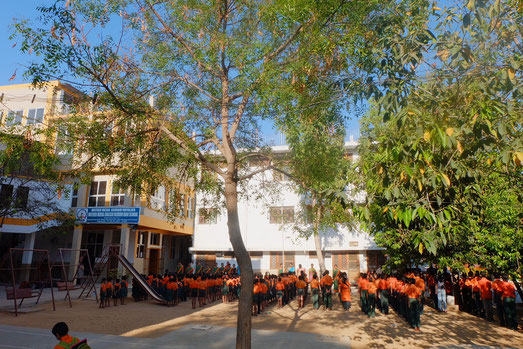 MOTHER'S VISION FOR THE SCHOOL

Mother's Vision is to give Her Indian children a high standard of education in a school managed and structured by western standards and volunteers.

TEACHING AND MANAGEMENT – structured by Western standards
VOLUNTEERS – keep the school running smoothly
A CHILD-CENTERED LEARNING APPROACH, such as Montessori, is envisioned
The Mother Meera School in India is well established. Mother's Vision is to give Her Indian children a high standard of education in a school managed and structured by Western standards and volunteers. With Mother's guidance and our devotion and surrender, Mother's Vision will continue to manifest. If you are able to spend a month or more in India, this is a wonderful opportunity to work with Mother and Her children. To support Her as She is supporting us.

MOTHER MEERA OPENED AN ORPHANAGE 28 SEPTEMBER 2007

One day, Mother simply opened the doors of Her private home to shelter children that didn't have families to support them. She endearingly called them 'ashram kids'. In love and surrender two Western devotees committed to the challenging task of caring full-time for these kids, devoting their entire life to support Mother's Vision.

The ashram kids then had a long way to walk to their local school on dusty and perilous roads, often accompanied by their loving ashram dog, whom Mother named Shivaji. He protected them from stray dogs and harassment. When the trek to the local school became too much of a hardship, Mother simply decided to open Her own school. Now the ashram kids only need to walk from one building to another, on Mother's protective grounds. They enjoy taking care of their school, they mature and take pride in their duties. For the love of Her ashram kids, and all Her children, Mother is continuously transforming the world.

THE MOTHER MEERA SCHOOL WAS INAUGURATED 7 JUNE 2010

Thus, the orphanage was the humble beginning for Mother's School which now is a temple of learning for over 1000 students.
Construction and development of the School has arisen out of Mother's Vision. Mother together with devoted western volunteers worked hard to bring it to fruition.
Now we are all are asked to pitch in and keep it running smoothly by following Mother's intimate guidance.
Please come forward and apply now!

PRESENTLY

A seed planted carefully, well watered and cared for, now has matured into a tree with countless fruits. It provides shade, comfort, education and hope for a multitude of Indian children as they ripen under Mother's inspiring rays of Divine Grace and Love. The Mother Meera School is a group of schools in Madanapalle, India, consisting of the main school, called MOTHER MEERA ASHRAM VIDYALAYA, and two MOTHER MEERA PLAYHOMES. A small home for the ashram kids and volunteer accommodations are part of the main school's campus.
Classes now range from Baby Class to 10th Standard (3-16 years)
More than 1000 students are registered
The school has 37 classrooms, including Computer and Audio Visual rooms, a Science Lab and a Library. It also has WiFi.
About 60 people are employed in Mother's School.
Along with the academic education, many periods of prayer and silent meditation are merged into the daily school routine: before school begin; at breaks and lunch time; before and after classes; and in the afternoon. Local religions are beautifully reflected in the School's students and teachers, all united peacefully under Mother Meera's protective umbrella. The Western volunteers add yet another dimension, making THE MOTHER MEERA SCHOOL AN INTERNATIONAL ADVENTURE INTO THE SELF.

A steady stream of devoted and capable volunteers is needed, willing to work together, harmoniously, for Mother's transformation of the world.
Please come. Support Mother Meera's Vision. Offer the gifts and talents She granted you for Her work in the world.
Please come.
Support Mother Meera's Vision.
Offer the gifts and talents She granted you for Her work in the world.
Volunteering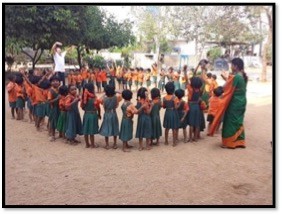 "IT IS A TIME TO WORK WITH THE POWER AND LOVE OF
THE DIVINE IN THE WORLD.
WHEN PEOPLE ARE REALLY DEDICATED TO THE DIVINE,
THERE IS NO DIFFERENCE BETWEEN ACTION AND PRAYER."
– Mother Meera: Answers

A steady stream of devoted and capable volunteers is needed to support the Mother Meera School. Western volunteers keep the school running by following Mother's direct and personal guidance. Mother based the teaching and management structures of the school on Western standards, and on a child-centered learning approach.

Many volunteers are always needed in:
THE SCHOOL – to support Indian teachers in classes or otherwise
THE OFFICE in management and logistical tasks
GENERAL MAINTENANCE – plumbing, building, painting, and decorating, etc.
CONSTRUCTION AND BUILDING – at the school and playhomes.
OTHER AREAS – cleaning, gardening, and cooking.
TUTORING and working with the resident children.
IN GENERAL – the western presence alone is educational for the children, just as their's is for us. It instills hope for a good future and helps them adjust easily to a fast changing and extremely demanding international world.
Much work needs to be done and many volunteers are always needed as Mother's School now has over 1000 students.

Please apply now!

"I WANT PEOPLE TO BE STRONG, SELF-RELIANT,
UNSELFISH AND TO CONTRIBUTE TO THE WORLD
WITH WHATEVER SKILLS AND GIFTS THEY HAVE.
I WANT THEM TO WORK.
OLD SEPARATIONS BETWEEN HOLY AND
UNHOLY ARE NOT TRUE ANYMORE."
– Mother Meera: Answers

MOTHER'S WISH-FULFILLING JEWEL

The School is like a wish-fulfilling jewel for all who have wanted to be close to Mother and yearned to reciprocate Her Love. Even with Her intense international Darshan schedule, Mother continues to visit Her Indian School on a monthly basis to ensure that Her vision for the school is evolving and well.

Volunteering is a delightful opportunity to observe the Divine Mother sharing and enlightening our lives, as one of us and in all Her different Divine Forms. To see Her walk, talk, laugh, scold, joke, and instruct. Tenderly arrange flowers, potently end conflicts or change hopeless situations. Repair electrical extension cords or sort and declutter a heap of messy tools. All this is Divine Grace in Mother's Presence. Mother does everything with such detail and the love She holds for everything is apparent. Her loving radiant smile, intense gaze and presence shower Divine Blessings on the volunteers, inspiring an intimate relationship with the Divine, the world and ourselves.

Working with Mother is Darshan. In Mother's presence awareness intensifies. The work in India can be challenging and occasionally overwhelming. Yet, whenever needed Mother's Grace brings balance, perhaps by personal interaction, an assignment to help the children maintain discipline or by the school's schedule that includes silence and meditation. Thus, Mother teaches us to interweave business, noise and stress with silence and meditation until the differences dissolve. Through this intimate connection with Mother we feel safe and know that The Divine Mother is always with us.

"GOD IS WITH US" is written on the Mother Meera School emblem in India.

We simply need to follow The Divine Mother's guidance and surrender into Her international endeavor of reshaping the world and us. She will open our hearts, ever wider, to the Divine harmony and order here on earth. Not merely by sitting quietly in silent Darshan but also by working and helping on the physical level. Wherever Mother is physically present, there also is Her tangible Divine Darshan, Her Love, Light and Grace reminding us

"EVERYTHING IS DIVINE. GOOD OR BAD. ALL IS GOD."
– Mother Meera: Answers

Our awareness is heightened and for moments our traumas are eased as we perceive the separations between worldly and Divine disperse.

"THERE IS NOTHING WRONG WITH THE WORLD.
THE DIVINE IS EVERYWHERE."
– Mother Meera: Answers

Mother's work is an eternal offering to the Divine and of harmony to the world. She never shies away from any kind of work or circumstance. She simply does what needs to be done, supported or not. Mother is living proof and example of the Divine in the world and shows that world transformation is happening right now. We are all Her children and She lovingly cares for all of us, everywhere, with pure love and perfect respect. Accepts everything and unceasingly surrenders all for the well-being of Her children.

Mother is giving volunteers the most fortunate opportunity to personally talk with Her. Volunteers are welcome to ask Her advice on individual or work related issues, concerns and beliefs, anything that is troubling their hearts and minds.

REQUIREMENTS FOR VOLUNTEERING

A sincere longing to serve the Divine Mother
Willingness to abide by Mother's instructions
A love and natural affinity for children is essential, but volunteers do not need to be teachers
A command of the English language is helpful, but aspiration is of the utmost importance
Respect, flexibility, adaptability and the desire to work and live in harmony with others
Good health, self-reliance, and self-responsibility
The ability to cover personal travel expenses and living costs. Living expenses are minimal in India.
Volunteers can offer any God given talent and skill. Serving the Divine Mother and Her Indian children will instill change and a deep connection with the Self.

VOLUNTEER ACCOMMODATIONS

A private room and bathroom, as well as a communal kitchen on the school's grounds are provided for volunteers. If you are able to spend a month or more in India, please consider applying to support the school. Please contribute your gifts and talents, your time and support, to serve the Mother Meera School in India. The children need your help, and you will grow while serving the Divine Mother.
Please apply using our Application Form.
Imagine to listen to the Divine Mother's
Soothing and delightful voice
To hear Her laugh
To see Her walk

Perhaps we hear Her scold
Or fiery give instructions
In our hearts we know
It is God's Love
Changing us
And the entire world

Our heavy hearts rejoice
Our souls have found their meaning in this life
At long last we are home
And know that all is well

God is with us
The Divine Mother carries us
And our burden
Volunteer Form
Please do not book your flight before you have been accepted as a volunteer!

If you are interested in becoming a volunteer at Mother Meera School in India, please copy&paste the following list of questions, together with your answers and send them via email to:



with the subject line 'Volunteer Form'.
Also enclose a current passport-like photo of yourself with the email.
Please also print out a copy of the filled out form and bring it along with you.
- - - - - - - - s t a r t c o p y - - - - - - - - -
PERSONAL INFORMATION
1) Last Name:
2) First Name:
3) Phone (+country code):
4) Email:
5) Address:
6) Date of Birth:
7) Nationality:
8) Sex (female/male):
9) Mother's name, email, address:
10) Father's name, email, address:
11) Level of your English (poor/medium/good):
12) Are you regularly employed (yes/no):
13) Your Profession:
14) Employer Name and Contact Info:
15) Please, tell us about yourself (motivation/skills/experience with children, other):

RELATIVE'S INFORMATION
16) Close Relative's Name:
17) Relation:
18) Email:
19) Phone (+country code):

FRIEND'S INFORMATION
20) Name:
21) Email:
22) Phone (+country code):

WHOM DO WE CONTACT IN AN EMERGENCY?
23) Name:
24) Relation:
25) Phone (+country code):
26) Email:
27) Any health problems we should know about (i.e. are you on medicine for: diabetes, allergies, depression, heart problems, tuberculosis, etc.):

INFORMATION FOR INDIA
28) Estimated Arrival Date:
29) Estimated Departure Date:
30) Will you stay at the School the entire period (yes/no):
31) If not, please provide information:
32) Have you received Mother Meera's Darshan before (yes/no):
33) Have you visited India before or been to developing countries (yes/no):
34) Sometimes you might have to share a room. Is that OK for you (yes/no):
35) Which airport are you flying from / Are you interested in flying from Frankfurt eventually with a group?
- - - - - - - - e n d c o p y - - - - - - - - -

After you have been approved, and once you have your visa and ticket, fill out the C-Form requested by the Indian government, and send it by email to:


C-Form

The Indian government requests this form to be filled out by foreigners visiting the school in India. This is not needed for Indians.
Foreigners, please also bring for EACH VISIT photocopies of your passport, visa, and an official document (e.g. ID card, passport etc.) displaying your current home address.

Please

copy&paste

the form below into an email together with your answers and send the email with the subject line

'C-Form'

to:



Also enclose a current passport-like photo of yourself with the email.
Please also print out a copy of the filled out form and bring it along with you.

- - - - - - - - s t a r t c o p y - - - - - - - - -
1) Surname:
2) Given Name:
3) Sex (male/female):
4) Date of Birth:
5) Address in country where residing permanently (as in passport):
6) Country:
7) City:
8) Your phone number incl. country code:
9) Your Email Address:
10) Nationality:
11) Passport Number:
12) Passport Date of Issue:
13) Passport valid until:
14) Passport Issued Country:
15) Passport Issued City:
16) Visa number:
17) Visa date of issue:
18) Visa valid until:
19) Visa issued country:
20) Visa issued city:
22) Visa type (tourist, pilgrim, student etc.):
23) Date of arrival at the school (or first Darshan date):
24) Number of days staying (or number of Darshans visiting):
25) Country arrived from:
26) Arrived from city:
27) Arrived from place (e.g. address, main street or landmark):
28) Date of arrival in India:
29) Employed in India? (yes/no):
30) Purpose of visit (Education, visiting spouse, tourism etc.):
31) Next destination – outside or inside India?:
32) Going to Country (if outside India) / State (if inside India):

Andhra Pradesh


33) Going to City:

Madanapalle


34) Going to Place (e.g. address, mainstreet or landmark):

Mother Meera School, Paramatma Dari, 517325 Madanapalle, Chittoor Dist., A.P. India


35) Contact number in India:

+91 94-93-628108


36) Name of 1st close relative or friend :
37) Contact of 1st close relative or friend (Phone, email and address):
38) Name of 2nd close relative or friend :
39) Contact of 2nd close relative or friend (Phone, email and address):
- - - - - - - - e n d c o p y - - - - - - - - -
Principal Needed
Mother Meera English-Medium School is seeking a native Indian Principal to work and cooperate closely with Western volunteers and guide 1000 Indian children and their Indian teachers.

Requirements:

Experience managing a school from Baby Class to 10th Standard.
Excellent spoken and written English language skills.
Thorough knowledge of the rules and routines of the Indian educational system and curriculum.
Familiarity with teaching methodologies that provide optimum student learning.
Competence to supervise, support and enhance teachers instructing skills and their self-responsibility.
Ability to maintain order and discipline in the school.
Graduate degree with B.Ed.
Paid salary.
Immediately available.

If you are interested, please apply by sending an email to:


Mother Meera Ashram Vidyalaya
Paramatma Dari
Madanapalle 517325, Chittoor Distr., A.P.
India

Send an email to:


Pictures
Mother Meera Schools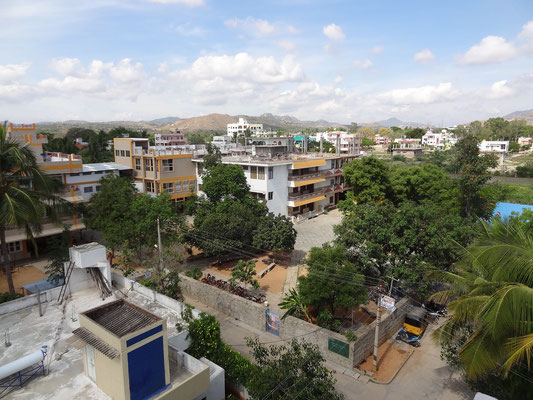 Areal view of the main school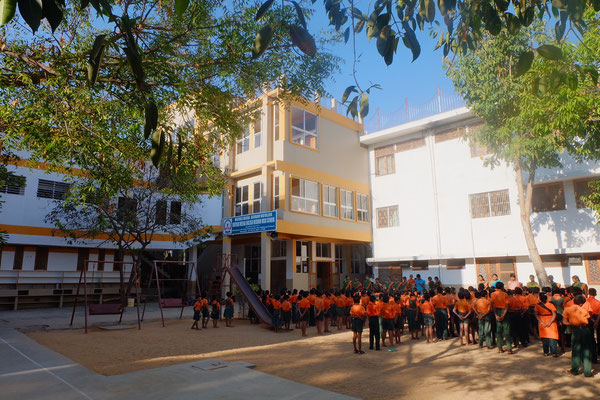 Front of the main school building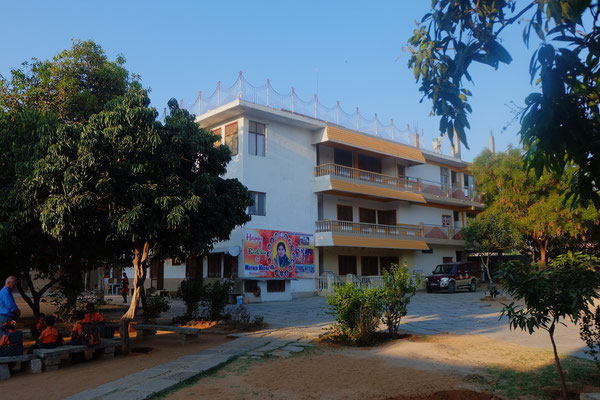 Residential Building

Playhome Vivekananda Nagar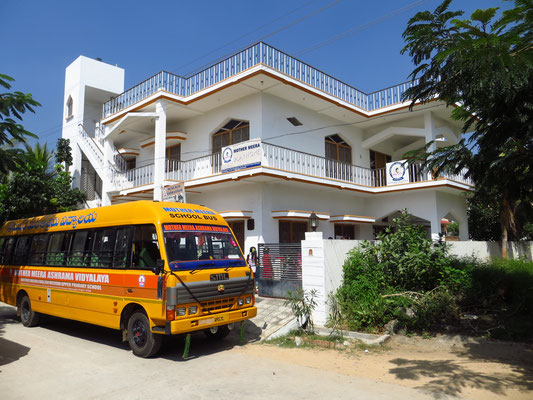 Playhome SBI
Daily Activities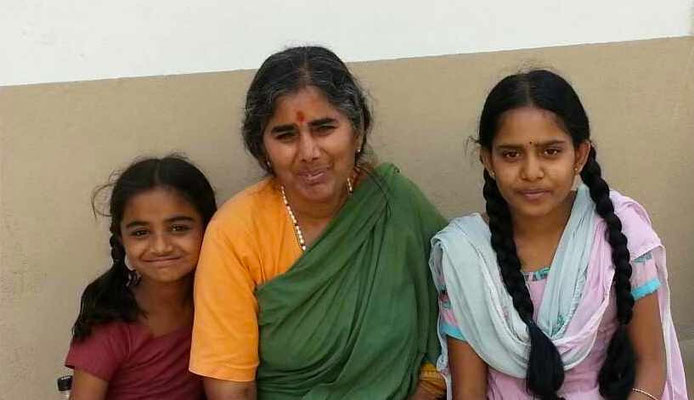 Mother and children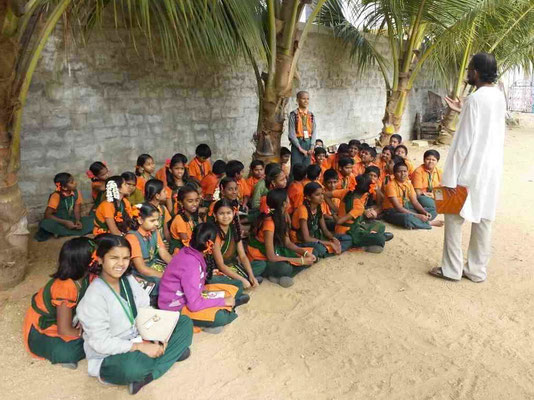 Volunteer teaching older children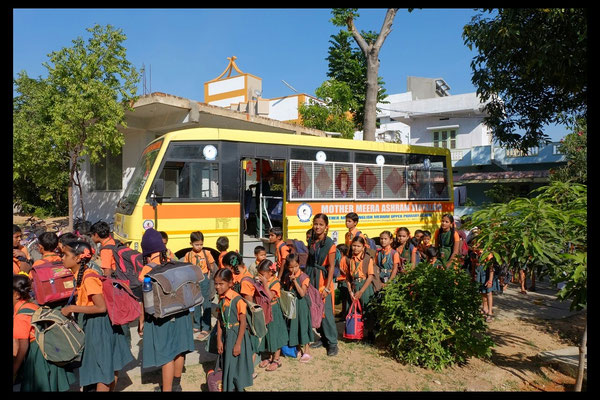 Students arriving for morning class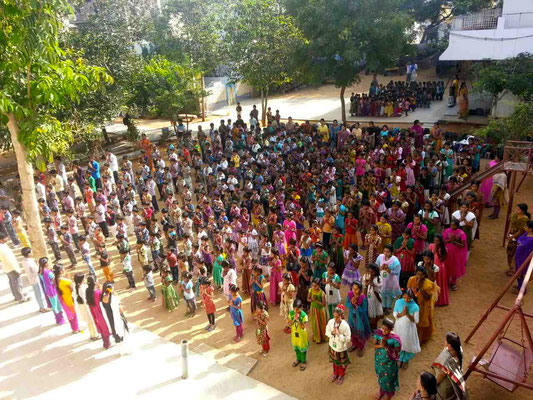 Morning prayer on Saturday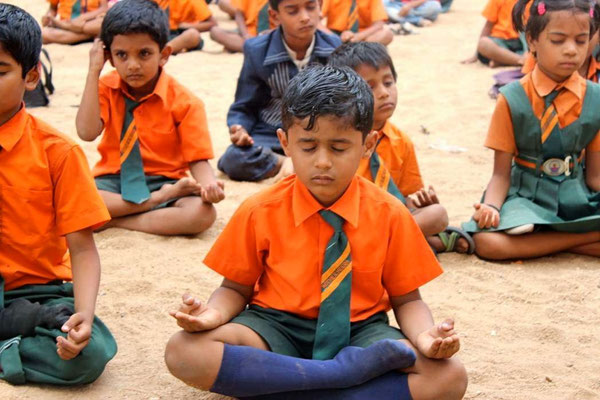 Meditation is conducted daily in the schools

Volunteering at Mother Meera School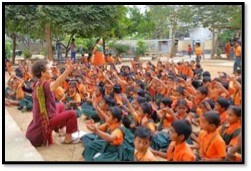 Volunteer leading morning English songs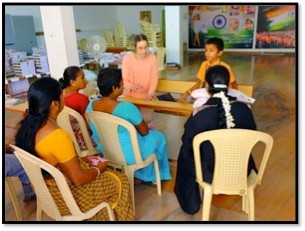 Volunteer in the office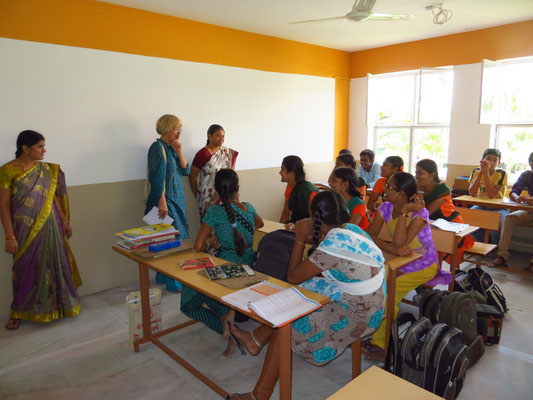 Volunteer and teacher in the classroom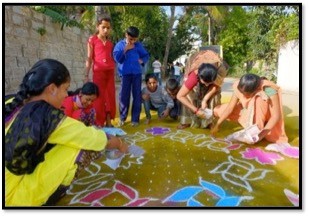 Preparing for festivities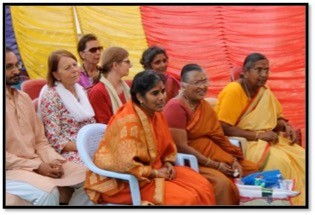 Volunteers visiting a temple with Mother